House Committee: DeVos Aide Diane Jones Repeatedly Misled Congress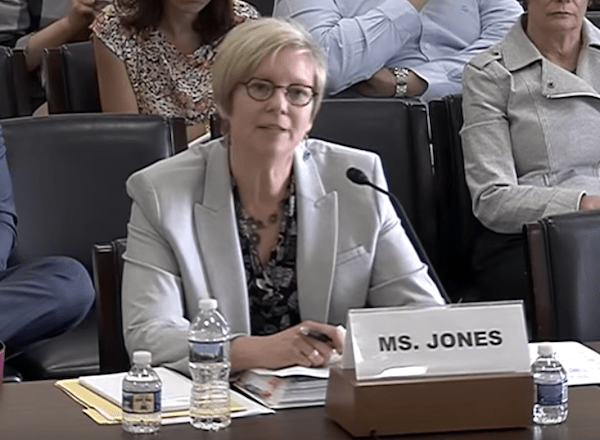 A report that the House Education and Labor Committee launched this afternoon supplies recent proof to help what has been clear for a very long time: Betsy DeVos's prime greater training aide, Acting Deputy Under Secretary of Education Diane Auer Jones, has repeatedly made false statements to Congress concerning her function within the debacle over Dream Center Education Holdings (DCEH).
When DCEH, a newly-formed subsidiary of a non-profit charity group, acquired a number of chains of faculties from the collapsing, disgraced for-profit faculty operation EDMC, the accreditor of two of the varsity campuses, Higher Learning Commission, conditioned the sale on DCEH accepting, and telling college students, that the campuses can be unaccredited, at the least initially. DCEH accepted the phrases, however then falsely knowledgeable college students that the campuses "remain accredited" (as Republic Report was the primary to show).
Then, as subsequent proof confirmed, Jones and DCEH labored behind the scenes to attempt to render the campuses — the Illinois and Colorado Art Institutes — retroactively accredited, and thus eligible that for the thousands and thousands in federal taxpayer assist that the Department was illegally sending the faculties.
The new report paperwork repeated falsehoods by Jones and the Department of Education, some primarily based on newly-obtained proof:
— Jones, a former senior government at one other massive predatory for-profit faculty chain, testified to the House Oversight Committee final 12 months that she "[did not] remember texting" with DCEH officers. Records present that Jones routinely texted with a number of DCEH officers, greater than 100 texts. We reported in May 2019, from a DCEH supply, that Diane Jones refused to speak with DCEH management by e-mail; she wished texts or cellphone calls solely. Department of Education coverage "prohibit[s] all employees from using personal email or messaging applications to conduct Dept business." 
— Jones testified to House Oversight new steerage she issued, reversing Department coverage and permitting retroactive accreditation, "had nothing to do with Dream Center." However, at a minimal, the Department informed DCEH of the steerage earlier than it was launched, and it facilitated Jones' retroactive accreditation proposal to HLC. I testified on the identical House Oversight listening to the place Diane Jones testified beneath oath that her revised 2018 steerage "had nothing to do with Dream Center." It was clearly a lie then, and the House report confirms that.
— The report additionally fully undermines the Department's May 2019 declare, in response to a written query from Senator Dick Durbin (D-IL),  that Jones first realized of the HLC-DCEH matter on July 10, 2018. The file exhibits she had been closely engaged on the difficulty, which had already spilled into public dialogue, effectively earlier than that date.
— The report additionally notes that the Department has refused to cooperate with its investigation. While the Committee obtained a few of Jones' textual content messages, context signifies others haven't been launched. Jones seems to reply to a message stating "Merry Christmas to you, too!" to Dream Center's counsel, however no different messages had been offered from that week, such because the one the place counsel would have initiated the Christmas greeting. 
HLC president Barbara Gellman-Danley informed committee investigators that Jones' private engagement on this challenge was uncommon; HLC later asserted, in accordance with the report, that the Department "was and is attempting to commandeer HLC's accrediting process by 'strong-arming' HLC into retroactive accreditation, in violation of law."
The House report additionally provides what I consider is a brand new element on this saga: After web site visits on the two unaccredited DCEH campuses, HLC employees informed Jones they'd advocate reinstatement of accreditation for one faculty, however revocation of even probationary "candidate" standing for the opposite "due to persistent non-compliance with HLC policies."
These issues will certainly be addressed tomorrow, when DeVos's outdoors advisory committee, NACIQI, holds a gathering to think about the Department's weird and vindictive proposal that HLC, not DCEH or Department officers, be disciplined over this controversy.  I'm one of many members of the general public slated to testify.
The House committee report concludes that the Department's and Jones's "false and misleading statements to Congress have distorted the Congressional and public record."
The report additionally notes that Jones' relentless push to back-date the DCEH campus accreditations would have real-world penalties that, as with virtually the whole lot Jones and DeVos do, harm college students and assist predatory faculty operators. Retroactive accreditation of those DCEH colleges, as DeVos and Jones have sought, would, the committee says, "insulate investors in a fraudulent for-profit college from liability, while transferring that liability to the students it defrauded."
In a press launch, committee chair Bobby Scott (D-VA), mentioned, "Rather than slicing off their entry to taxpayer cash – because the regulation requires – the paperwork reveal that the Department continued to ship these colleges thousands and thousands of in federal monetary assist, whereas additionally working behind the scenes to try to safe 'retroactive accreditation' for these colleges, a course of that might change historical past to erase Dream Center's misrepresentations to college students. 
In a standard administration, not run by Donald J. Trump, the place her model of duplicity and abuses weren't the norm, Diane Jones would have already been fired for blatant misconduct in workplace. She ought to resign at present.